Hi from Vancouver, Canada! It's Heather from dahlhaus ceramics to share a little bit about what makes this season special at our house!
Our decorations are fun and cheerful with a collection of hand-made ornaments from years past and vintage toys and album covers (with lots of records to listen too) that are easy for little hands to move around and get excited about.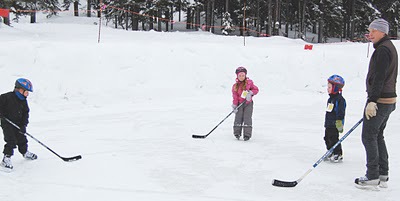 We do a lot of out-door activities when the snow arrives. Making snow-forts, going tobogganing, skiing and snowboarding, and playing ice hockey on an out-door rink are part of a typical Canadian winter experience. We are all excited about the 2010 Winter Olympics and Paralympic Games happening in and around Vancouver this coming February!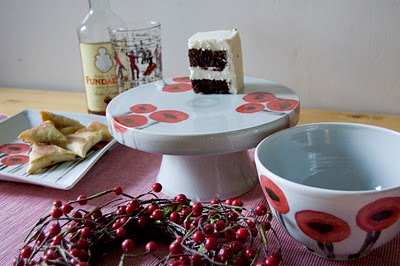 Since we love to have people over around the holidays for parties, my red poppies on cake plates, serving platters and bowls make it easy to make any table look simple and festive.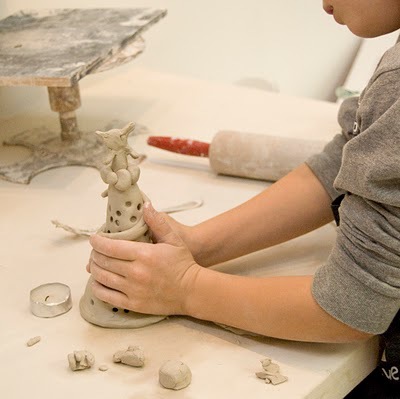 At the studio the boys like to make little Christmas trees out of clay, some to keep, and some to give away.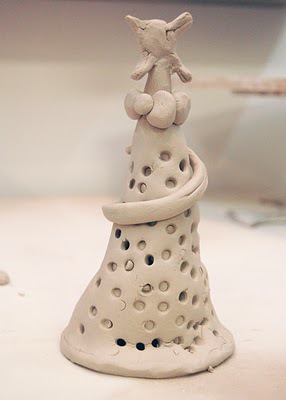 It will make a great little centerpiece on our table during Christmas dinner! This one was made with little holes poked through for a little tealight to be placed inside.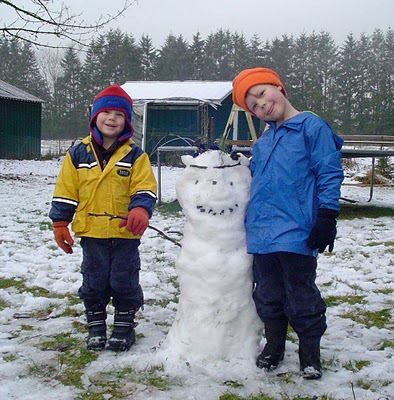 We want to wish you a special and meaningful time with family and friends at this time of year! We've been anticipating the Olympics coming to Vancouver for some time so it will be good to experience this first-hand in 2010! Otherwise we could only hope and wish for more of the same; good health, happy kids, making work that I love to make, and connecting with amazing and creative people all over the world!
Thanks for organizing this Stephanie! Merry Christmas to you and your family from our little Dahl house:)
Thank you Heather! Your Christmas season celebrations look so cozy and cheerful!